Newsletter for Winter 2016
Then and Now at Attleboro Arts Museum
I was invited to participate in this annual event that takes inspriration for the museum's permanent collection.

Click on image to learn more about the show... and yes, that's me on their website!
I created two paintings [Pair: Tied and Pair: UnTied] each 15 inches by 30 inches. The following short write up hangs beside them.
Having recently painted shoes, old and new, and recently worked with the idea of things laced and linked, the shoes were the perfect fit. I wanted to paint big. From there it was more about exploring questions "what would it look like if.." than finding answers. When I marked the corners off I was reminded of the protective sleeves of old photos. That led me to try the white borders that were so popular in the albums of a time half way between then and now. Somehow it seemed fitting that these shoes framed in nostalgia are larger than life.
These shoes were not made for left or right; that comes from wearing them. So these two paintings are wired on all four sides so that they may be hung in a variety of combinations involving the hanger as the shoes involve the wearer.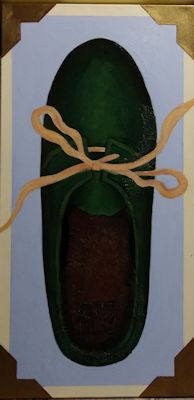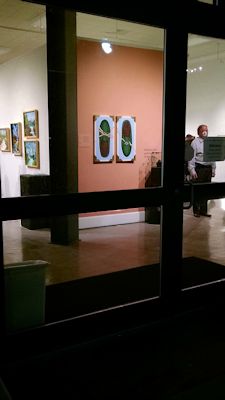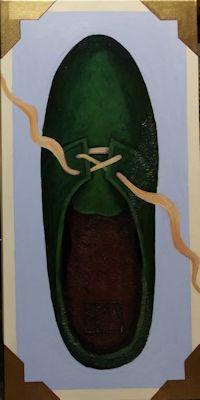 Interested in more frequent news?
Newsletter: Vol 4 Issue 1 Winter 2017
Text and images copyright © 2017 Stephanie Nargesian Miksis. All rights reserved.
Are you on the studio mailing list? If not,
Sign up to receive email updates of new works and news.